Integrity ProCloud & Actifio will take you miles away from the ordinary to extraordinary! Join us at BerBer Social for a memorable Holiday Happy Hour Party. This year end event is our way of thanking our clients for their support in 2017 and stays true to our commitment to quarterly events that educate IT executives about important cloud services in a social environment that encourages networking with their peers. In addition, our Holiday Happy Hour Party features eclectic food & drink, cultural & artisanal décor and entertainment.
This event is dedicated to GTA's high performance C-Level Executives and Senior IT Directors
"Enabling Digital Transformation through Instant Data Access"
Devops and Cloud are the hottest topics for IT professionals going into 2018, and with good reason: making the shift to digitally transform in a cloud based model can result in a business-defining transformation. Enterprise IT executives are being tasked to drive value to their shareholders through increased speed, reduced costs, and better quality control. Learn from a global market leader and senior technology strategist how Data as a Service can drive value to your shareholders in 2018!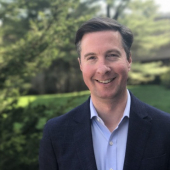 Brian Reagan – Actifio
Actifio is an enterprise-class data virtualization software platform. It enables businesses around the world to deliver data as a service, leverage public, private, or hybrid cloud infrastructure, accelerate testing for DevOps, and improve SLAs for backup and disaster recovery while reducing cost and complexity.
As Chief Marketing Officer, Brian Reagan brings more than 20 years' experience accelerating growth for storage and data management organizations. He was most recently the CTO of the Resiliency Services division at IBM Corporation, responsible for the technology strategy, R&D, solution engineering, and application development for all global offerings including cloud services.
Prior to IBM, he was CMO for Arsenal Digital Solutions, which was purchased by IBM in 2008, as well as CMO for performance data storage firm Xiotech. Reagan also held senior-level strategy and marketing roles at EMC Corporation and MCI Telecommunications. Reagan has served as an advisor to a number of startups throughout his career.
Brian holds a B.A. from Bennington College and a MBA from George Mason University. He is a passionate advocate for food allergy research and education and member of the FARE organization, as both of his children have food allergies. Through the organization, he has participated in charitable events, walks, and lobbying in Washington, D.C. over the past decade.
*Capacity is limited – Register Today!
*Due to the exclusivity of this event passes will be given on a first-come, first serve basis. We expect this Holiday Happy Hour Party to fill up fast.
To get your Free Event Pass, Please Complete The Form Below:
When: Thursday, December 14th, 2017
Time: 5:00 – 8:00 p.m.EST
Venue: BerBer Social 49 Front Street, Toronto M5E 1B3